BECOME UNRIVALLED EXPERTS IN OUR FIELD, SUPPORTING ALL ASPECTS OF OUR CLIENT'S IP PORTFOLIOS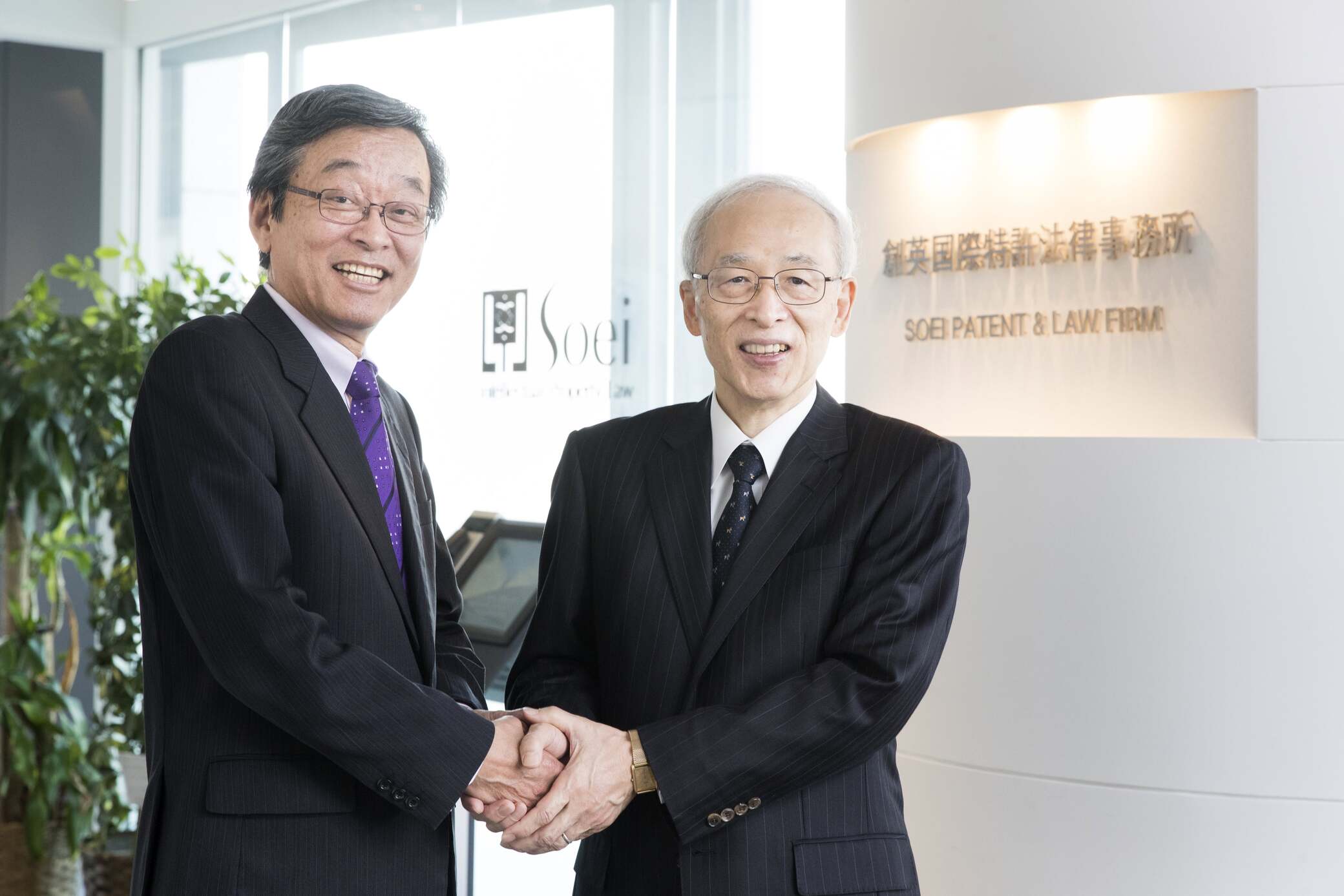 SOEI Patent and Law Firm announces that Attorney-at-Law Ryuichi Shitara (former Chief Justice of the Intellectual Property High Court) has been promoted to Chairman and Co-Representative Partner, as of July 1, 2018, with Patent Attorney and founder Yoshiki Hasegawa staying on as President and Co-Representative Partner.
With almost 15 years at the Tokyo District Court Intellectual Property Division and almost 8 years at the Intellectual Property High Court as well as its predecessor (Tokyo High Court Intellectual Property Division), Mr. Shitara brings with him a wealth of experience from decades at the forefront of intellectual property law practice and administration. He has adjudicated countless high-profile cases of IP litigation, as well as various civil cases before the Tokyo High Court and Osaka District Court. Through his many years of government service and international activities as a judge and attorney, Mr. Shitara's international network is wide-ranging, and he continues to interface with many judges, attorneys, and interested parties in the field of intellectual property worldwide.
From its inception more than 30 years ago, SOEI's vision has been to contribute to advancing Japan's position as a leader in intellectual property, and we are now globally active in securing protection for our clients' intellectual property created out 'in the field', so to speak, then supporting effective utilization of these rights.
To realize this, we first developed a group of top-caliber specialists including more than 117 Japanese and foreign attorneys-at-law and patent attorneys, through systematic and rigorous training of the best people (around 290 as at May of 2021); secondly, built a structure by which our five hubs (Tokyo, Kyoto, Fukuoka, Washington DC, and Bangkok) collaborate integrally by sharing information/knowledge/experience via our proprietary IT infrastructure; and finally, formed a system for the secure, reliable management of IP rights by fostering cooperative working relations between our people through our unique organizational structure.
At SOEI we believe that IP law firms of the current generation must adopt a one-stop approach offering comprehensive support to clients, which includes uncovering new ideas at the ground level, obtaining protection for them and, ultimately, exercising and enforcing these acquired rights. We remain dedicated to our mission of becoming unrivalled experts in the field of intellectual property, constantly advancing systems for collaboration between attorneys-at-law and patent attorneys from a global perspective, as well as providing multifaceted support for our clients' management of their intellectual property.
We thank all our clients and collaborators worldwide for the unwavering trust you have placed in us over the years, and promise to continue delivering on our commitment to being your indispensable partner in all aspects of intellectual property law in Japan for a long time to come.
Ryuichi Shitara (Attorney-at-Law)
Chairman and Co-Representative Partner
Yoshiki Hasegawa (Patent Attorney)
President and Co-Representative Partner