OUR PEOPLE
Yoshinori SHIMIZU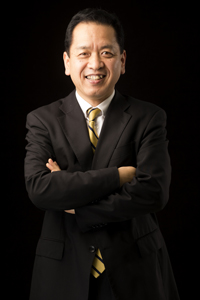 Vice President
Yoshinori SHIMIZU
Yoshinori SHIMIZU
Patent Department
Mr. Shimizu received his B.S. in Chemistry/Biomaterials from the University of Tokyo in 1987, MBA from Bond University in 2007 and Juris Doctor from Toin University of Yokohama in 2011.

After graduating from the University of Tokyo, he worked for the 3M Company (Japan and U.S.) for over ten years as a chemical researcher. He joined SOEI in 1999, and qualified as a patent attorney in 2003.

He handles prosecutions, appeals, trials, expert opinions, and consultations in the fields of adhesives, catalysts, ceramics, cosmetics, electrochemical, nanotechnology, optics, organic and polymer materials, petroleum chemistry, pharmaceuticals, photo-resists, photolithography, photoconductors, semiconductors, biochemistry, fermentation, gene engineering, natural products, and plant varieties.

He is a certified IP litigator, and advises clients periodically on IP matters. He is a member of the JPAA, AIPPI, APAA, and SPSJ (Society for Polymer Science, Japan).

He experienced a chairperson at the Biotechnology/Life Science Committee of the JPAA and a member of the JPO Working Groups on "Inventive Step," "Description Requirements," and "Deposition of Microorganisms." He also worked as a member of the Cabinet Office Working Group on the "Strategic Council on Intellectual Property." He is now Deputy Director General at the JPAA International Activities Center.

Mr. Shimizu plays guitar (classic & acoustic) and ukulele. He enjoys jogging, long-distance running (marathon), cruising, martial arts and food + sake. He is one of the founders of AIPPI Running Club.