Revolving Sushi Bar
Tomoya Kurokawa
    Sushi has become a very popular food all over the world.  I think that Japanese people are extremely lucky because there are many sushi restaurants all over Japan, and we can enjoy delicious sushi anytime, anyplace.
    Speaking of sushi, the modern type of sushi restaurant is the revolving sushi bar.  In a revolving sushi bar, the sushi is served automatically on a belt conveyor (without waiter/waitress), and we can enjoy sushi at a very reasonable price.
    Last Sunday, I went to a revolving sushi bar near my house with my wife, and fully enjoyed sushi.  So, I would like to share my experience.
    When we entered the revolving sushi bar, we firstly enjoyed a cup of green tea.  In a traditional sushi restaurant, a waiter/waitress serves a cup of green tea.  However, we have to prepare our own green tea because there is no waiter/waitress to serve green tea in the revolving sushi bar.  It is very easy because all we have to do is put green tea powder in a cup and pour tapped hot water into the cup.  There is a tap on each table.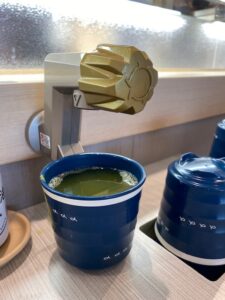 We can order our favorite sushi by selecting it from a menu shown on a tablet device.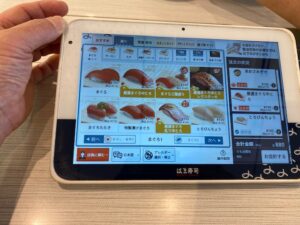 In a couple of minutes, the sushi which we ordered is delivered to our table on the belt conveyor.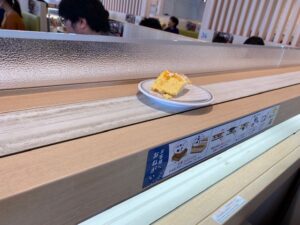 Before the corona pandemic, many kinds of sushi were rotating on the belt, regardless of whether or not it had been ordered, and we could pick up our favorite as it moved by.  However, during the pandemic, it changed solely to a delivery-by-order system (I think this is mainly for sanitary reasons).  The movement of the belt conveyer is well controlled, so that liquid dishes such as miso soup are also delivered on the belt and stop just in front of our table without any problem.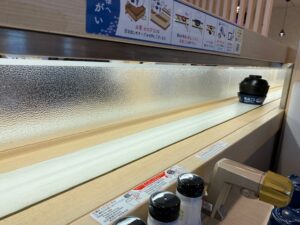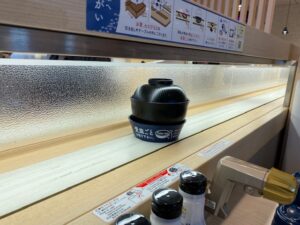 We can enjoy more than 100 kinds of sushi including tuna, fatty tuna, scallop and ikura (salmon roe).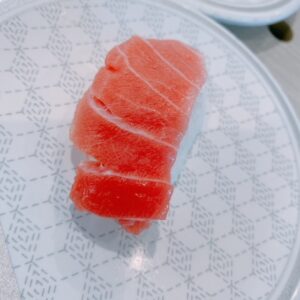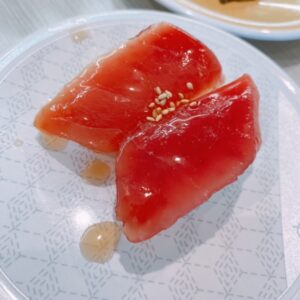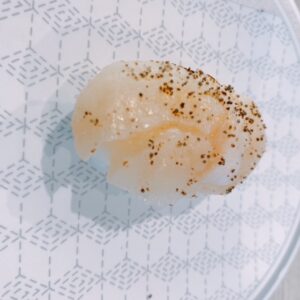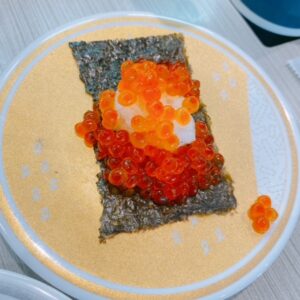 For those who cannot eat raw fish, there are also sushi with meat such as raw ham roll and deep fried chicken, egg and vegetables.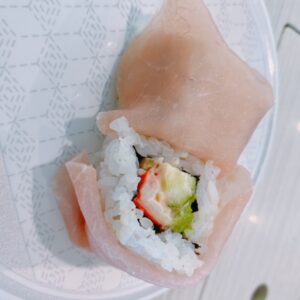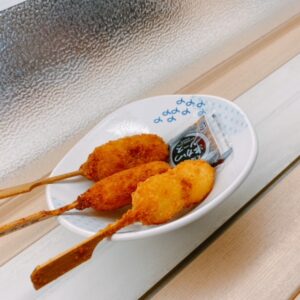 We ate until full, and paid the bill.  It cost less than USD20 for 2 persons (calculated at the rate of USD1=JPY137).
    We were able to have wonderful lunch at a very reasonable price.  I love revolving sushi bars, and I recommend everyone who visits Japan to try it at least once.